2018 Classes at the Learning Center
All clases will be held in my learning center / studio located at 166 Portsmouth Ave., Stratham, NH 03885.
​For more information please feel free to call me at 603-686-6802.
​Please note classes will run until mid June and commence again in September.
If you want to know about upcoming classes, feel free to sign up here.
Meet The Torch (part 2 of intro)
March / April
29, 5 & 12 Meet the Torch
Part 2 of an intro class on metalsmithing.
Students will meet the torch and learn to solder silver, fabricate a bezel set ring and set the stone. Safety and best practices will be discussed. Students will learn the basics to calculate the material needed for a specific ring size, making a bezel and much more. Basic metal skills or Meet the Saw required.
6pm-9pm
Fees $175, materials $25-40 stone dependent.
GOS - Guided Open Studio
April
3, 10, 17 & 24
The snow is almost gone and it's time to refresh your skills. Here is your chance to work with an experienced instructor to get those projects finished! Access to a rolling mill, torch, solders etc are included in this fee.
Time: 10 am to 3:30 pm, bring your lunch
​Fees: $75 per week, reserve your space
here.
Does not cover materials which can be purchased.
---
Meet the Saw (part 1 of intro)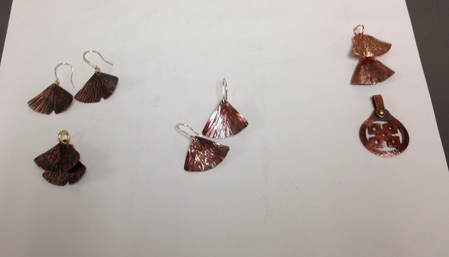 May

3, 10, & 17 Meet the Saw - Part I of an intro class on metalsmithing.
​Students will review and learn about the saw frame, loading a blade and best practices of use. Students will work in Copper, learn various cold connection techniques, including rivets, jump rings and more. Students will walk away with a pair of earrings & pendant at a minimum. No experience is required for this class.
Time: 6 pm to 9 pm
​Fees: $145, includes materials.
---