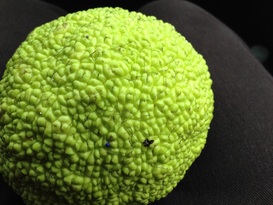 Osage Collection
Inspired by the Macular pomifera, aka Osage Orange; is a fruit that smells like roses, is bitter for human taste, but squirrels love it! Its surface is hard yet has many bumps which are smooth to the touch.
---
To achieve this texture, I roller print the metal sheets using auto shop rags. The red rag is made from coarse cotton fibers, which when stretched allow the metal to rise above the fibers, creating small little bumps. Along with the roller printed texture, I forge both circles and bars with a worn, chipped, etched from rust, knife edge hammer. Below is work where I use these texture in my designs. Enjoy!

Please contact me for pricing and availability.
​